The Spelunker hero, whose colossal spirit for adventure is countered only by his miniscule threshold for pain, was first introduced in 1983. The sheer number of ways to die coupled with the very exacting controls has pushed Spelunker's reputation from absurd to hilarious and spurred its popularity worldwide. Spelunker champions share a badge of honor like no other.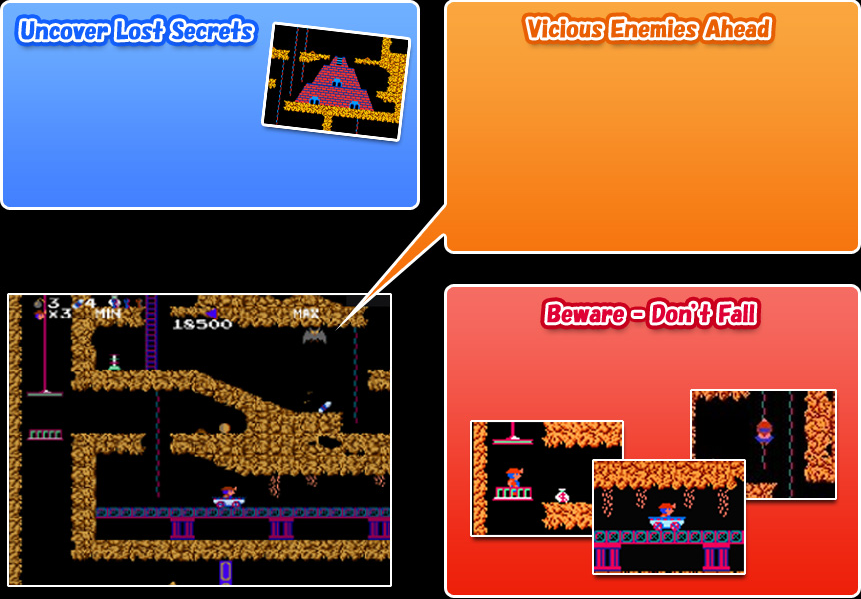 In search of ancient treasures, our hero must travel deep into underground worlds and explore miles of uncharted caves. Will he unlock the secrets of the pyramid and survive to tell?
He will encounter the many dangerous enemies who have ended all previous explorers ' hopes, as well as the lurking ghosts of the dead themselves!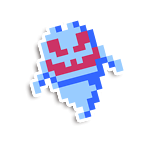 Height is a constant threat. Many apparatus will put the spelunker in precarious situations; extreme caution required!

Although created in the US, Spelunker's popularity peaked in Japan... and is still growing. It isn't uncommon to hear the Spelunker theme music play when an injury prone player approaches the plate in Japan's professional baseball league.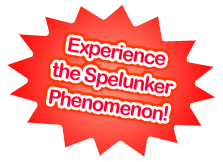 Check out these renowned tunes!
The Spelunker phenomenon has swept through Japanese culture and can be heard resonating from karaoke machines in trendy nightclubs and seen on designer t-shirts in vogue clothing outlets. The Spelunker hero was even licensed and featured in another video game.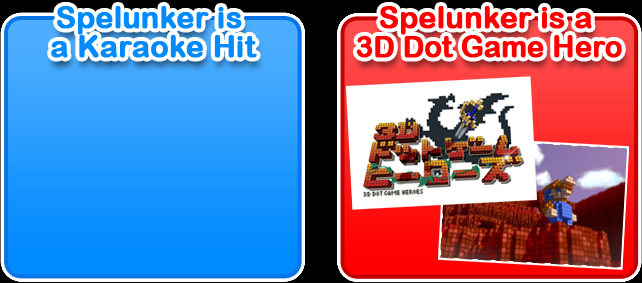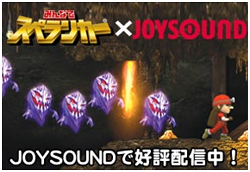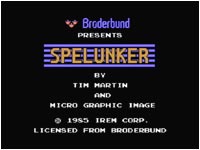 Title screen from Famicom Spelunker.
Package of Spelunker for Famicom.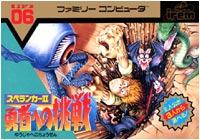 Package of Spelunker 2 for Famicom.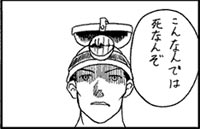 Maestro Spelunker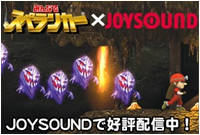 Minnade Spelunker Title Screen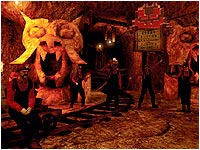 Lounge "Gathering Place for Cave Explorers"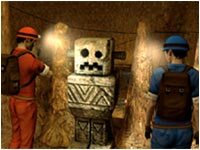 Lounge "The Bat-infested Abandoned Mine Cave"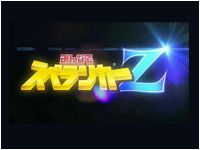 Minna de Spelunker Z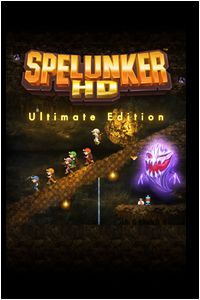 Spelunker HD Ultimate Edition